SEO
6 Essential SEO metrics to track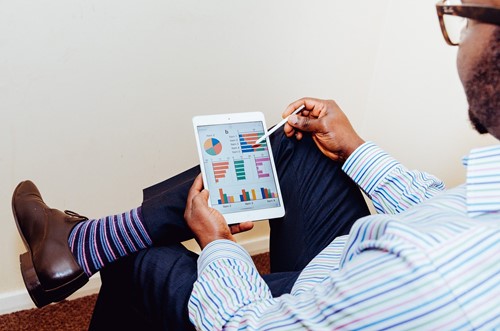 In today's world, where everyone owns a smartphone and has instant access to the internet, SEO is critical to the success of a business.
HubSpot reports that nearly 50% of consumers report that they discover new items or products through Google, making SEO one of the most lucrative aspects of a marketing campaign.
Luckily, tracking SEO metrics is not super complex and can be an effective way to boost your business and show you which areas can be improved.
Read our 6 most important SEO metrics to measure, to effortlessly optimise your strategy and take full advantage of SEO.
1.     Organic traffic
One of the most common metrics to track is organic traffic. This is the number of visitors that arrive at your website from search engines, but this excludes paid ads.
Boosting your organic traffic is often a goal that comes with measuring SEO metrics and can tell you how popular your page is.
By keeping your organic traffic SEO metric tracked, you can get a comprehensive overview of the effectiveness of your search engine optimisation.
Interested in boosting your online traffic? Read our blog post on the best ways to increase web traffic.
2.     Organic bounce rate
This SEO metric measures the number of visitors that land on your website and then leave without taking any action, for instance clicking onto another landing page on your site or signing up to your newsletter.
If your bounce rate is high, consider analysing your landing page. Perhaps the design is cluttered or difficult to navigate.
Ensuring that your landing page is inviting will encourage visitors to progress further into your site, rather than leaving straight away. A high bounce rate is also an indication that your SEO efforts do not correctly reflect the kind of content visitors can find on your site.
3.     Organic conversion rate
Another useful SEO metric to track is organic conversions which measure the quality of your leads.
For instance, let's say you have a high number of organic visitors to your site, but your sales or enquiries are low and do not reflect this large amount of traffic.
Well, organic conversion rate tells you the total number of visitors that are actually purchasing or enquiring.
This is ideal if you want to know the quality of the leads and it gives you a deeper understanding of the type of traffic you're generating.
4.     Top exit pages
Many marketers confuse bounce rate and top exit page. Bounce rate shows you the incoming page that the visitor bounces from, whereas the top exit page shows the website's outflow.
For example, you may have visitors that visit your website, click on a few different products, then looks at your reviews and then exits.
In this case, your top exit page would be your reviews. Perhaps you could work on improving your reviews or responding to them to show you are engaging and genuine about your consumers.
The top exit page is useful if you want to identify weak areas of your site that need some improvement.  
5.     Organic keywords
This SEO metric is great for exploring the different organic keywords that lead visitors to your site. Keywords will give you a deeper insight into what your visitors are searching for or how they phrase their needs.
Use this to your advantage and mimic the tone of the most successful keywords that your customers use to find you, or even use they keywords word for word.
You can also identify which type of organic searches and keywords are most effective at boosting your conversions.

6.     CTR (click-through rate)
This SEO metric is the number of clicks your website gets in relation to the number of impressions in the search engine results page (SERP).
CTR would be formulated as the total number of people that see your website come up on the SERP, divided by how many people clicked on your website. The result gives you your click-through rate.
You can improve on this SEO metric by editing and testing your title tags and meta descriptions. Just like you would with Facebook Ad A/B testing. This can help you become more tailored to what your target audience is looking for, which can eventually boost your CTR.
What is SEO metrics?
You've probably come across the term "SEO metric" a billion times, but what is the meaning of metric and how does it help your SEO strategy? Well, let's start with defining what an SEO metric actually is.
So, according to the Cambridge Dictionary, a metric is a "using or relating to a system of measurement that uses metres, centimetres, litres, etc.:"
A metric system is used when measuring or weighing items. For example, let's say you're weighing out flour to bake a cake. You know exactly when you reach 500 g of flour as indicated on the kitchen scale.
The weight, displayed in grams, shows a quantifiable measure that is accurate and precise.
In the same way as weighing flour, SEO metrics measure the success of your SEO campaign on solid, definite indicators.
SEO metrics are an accurate way to measure the performance and effectiveness of your SEO campaign. They leave very little room for error and are easy to understand.
If you want to be specific, you can also use SEO metrics in your goals. For instance, you could set a goal of reaching a bounce rate lower than 40% or increase your CTR by 20%.
SEO metrics help you measure otherwise intangible data and can easily optimise your whole online strategy.
Why track SEO metrics?
Below, we have listed the reasons why you should be tracking your SEO metrics to get a better understanding of your online strategy and plan.
Give better reports      
Nothing beats cold, hard facts, and by tracking your most important SEO metrics, you can easily create reports for your clients with in-depth insights.
This data is a great way to show your clients your progress and leaves no room for misunderstanding or wonder as you can present the numbers.
See what's working
Tracking your SEO metrics will allow you to identify areas that are working well and areas that are not.
Let's say that your top exit page seems to be the same for a large number of visitors. It would be a good idea to perhaps analyse your top exit page and make it more user friendly or enticing.
Maybe the page is not user friendly and appears too cluttered or confusing. Play about with different designs to see which results in a lower number of exits.
Save resources  
Tracking your SEO metrics can also save you money on paid advertising or other SEO investments. If you do find that your paid ads or paid searches are not performing well, then you can remove your investment from that area and put these funds towards something else.
SEO metrics can help make your business more efficient and help you adapt quickly.
Make better decisions
Utilising an SEO metrics tool will give you the information to make quick and effective data-driven decisions.
Having all the correct information in front of you is the best way to make accurate and quick decisions. There is little room for misjudgement or error, as the numbers are black and white.
What SEO metrics tool can I use?
There's a wide variety of tools that can be used to track the most important SEO metrics. Find out our top 3 SEO metrics tools that are easy to use and can give you deeper insights into your SEO strategy. 
Google Analytics
Probably the most well-known tool for tracking and analysing your SEO metrics. The SEO metric tool focuses on overall optimisation and can help your business track the performance of an SEO campaign or ad campaign.
The tool is free to use and is ideal if you want to focus on general web analytics and search engine optimisation.
SEMrush
This SEO metrics tool is good if you are looking to dig deeper into your competitors' keywords and rank higher in the SERPs.
If your goal is to increase in the ranks or gain more organic traffic, then SEMrush will be a good choice.
To be able to access the full potential of this particular SEO metrics tool, you do need to pay a fee.
Agency360
Last but not least, we have Agency360. This SEO metrics tool is a simple, all-in-one platform, making analytic reporting effortless.
Agency360 takes all the aspects of different analytical tools and brings them into one, easy-to-use solution.
Not only is the tool great for analysing data, but with the straightforward reporting feature, you can create professional, in-depth reports for your clients in one location.
No more switching between tabs or logging into several different analytical sites. Agency360 is a fantastic all-rounder and makes reporting a breeze.
Start your 14-day free trial here.