SEO
SEO ranking reports: 5 easy reports to help you understand your ranking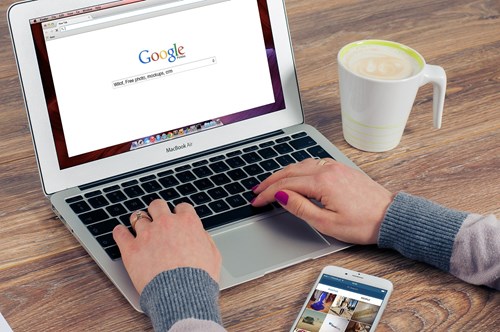 It's been shown that over 70% of internet users do not look past the first page of search engine results. Unfortunately, for marketers, this makes our jobs that much harder. Appearing on the first page of results is a shared aim for many businesses, making it a competitive battlefield.
More importantly, over 90% of online experiences start with a search engine, making it essential to both appear amongst the top ranks and to increase conversion rates.
Do you want to know more about your position in SERPs? Want to claw your way to the top of the rank?
Use our reports to sail to the top of the results, gain more visitors and effortlessly grow your business.
SEO ranking reports is a smart and simple way to gain an understanding of the performance of your client's website on the results page. Not only can they give you immediate information but they can show you where your weaknesses and strengths lie. 
Utilising SEO ranking report software is a reliable indicator of which of your resources are working efficiently, allowing you to optimise and streamline your marketing strategy or plan. This provides you with the tools to claw your way to top of the results page and gain more visitors.
Below, we've gathered 5 different types of SEO ranking reports that are essential for understanding your data and that will effortlessly raise your business.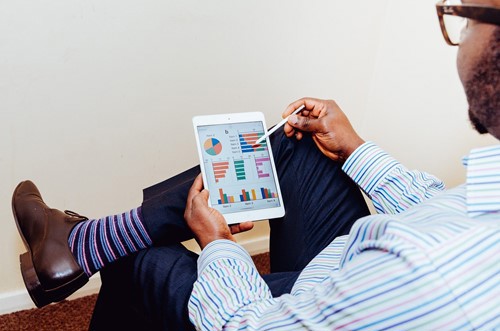 1.     Rapid SEO ranking reports
One of the more basic types of SEO ranking report is an overview report. This type of SEO keyword ranking report is excellent for showing your clients quick all-round data regarding their position in the search engine results page (SERP).
With Agency360, you can simply categorise your data by the top 5 or 10. Or, organise the data by ascending location.
Efficiently manage your data and display as little or as much data as you would like per page.
With our SEO ranking report software, you can quickly download this information in various formats, for example, PDF or Excel, whichever format suits you and your client best.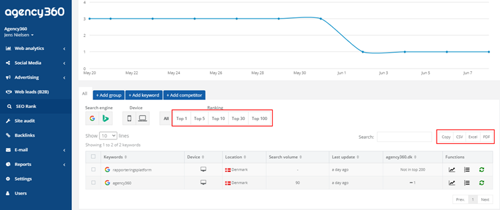 To create a SEO keyword report with the information, simply click onto your client's dashboard and select reports and then generate report. Next, select the SEO rank metric.

After you have selected your metrics, select the desired period you want to measure and click download.  Et voila! You will end up with an overview SEO keyword ranking report just like this:
Bear in mind, that this SEO keyword ranking report is a quick overview and does not go into heaps of detail. These SEO ranking reports are ideal for prompt updates and could even be sent out daily to other departments/team members to keep them up to date with the company's ranking position.
2.     Working in groups
Another great way to showcase your SEO keyword ranking report to your clients is to organise your data by groups. This is helpful if you have a large client portfolio composed of different clients in different industries or niches.
Instead of each keyword being analysed, you can get an easy overview of the group which is made up of individual keywords. This type of keyword ranking reporting is ideal if you want to display more in-depth information than overview SEO ranking reports. 
It is also great to show relevant and specific metrics quickly. For example, perhaps you want to manage your different keywords by different aspects of the business/service.
Say you group keywords together based on a certain product that is sold, then you can select to display only those keywords relating to that specific product and you can omit the rest.
To set up this type of keyword ranking report with our platform, go to the SEO rank menu, and click on add group along the top bar. Name the group however you like, and it will appear at the top.
Next, you can click add keyword, enter whichever keyword(s) you would like to group, and then assign them to your newly formed group.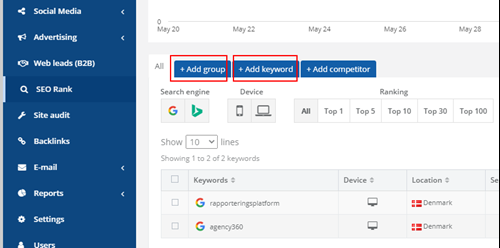 The keyword ranking report can easily be downloaded in either PDF, Excel or CVS for your convenience and can be simply set up to create an automatic report.
3.     Beat your competitors
Checking out your competitors' keywords is a sneaky way to examine their plan of action. Maybe your competitors have capitalised on a highly effective keyword? Or maybe their keyword strategy isn't as strong as yours?
Peeking at your competitors' keywords can help you optimise your strategy and perhaps suggest keywords that you may not have thought of before.
With the Agency360 platform, you can easily spy on your competitors' keyword ranking with our SEO ranking report software. To do this using our SEO ranking report software, simply click on the SEO rank menu and click add competitor.
Follow the simple instructions to add your competitors' website details.
Once all details are entered, you can choose which keyword you would want to analyse. For example, if your client offers bus rentals, you could choose "rent bus" to examine.
After you have chosen your words, let the platform do all the hard work and you will see your results appear on your screen.

You will also be able to filter your results by volume (the higher the volume the more important the keyword is), location or device.
To download these numbers as a keyword ranking report, go to generate report and select SEO rank, choose your period and then click download.
Your report will open automatically and you can clearly compare your keyword ranking to your competitors and be one step ahead of the game!
4.     Get specific
Analysing specific URLs is another powerful method of SEO ranking report. With SEO ranking reporting software, you can easily investigate the insights of a specific URL.
Easily identity which URLs are the most effective at bringing in leads as well as other in-depth insights specific to that link.
Additionally, you can see the visits per URL, duration spent on the site and bounce rate.
To access this information, simply click generate report and under web analytics, you will find the direct menu.
You can easily change the time for the SEO ranking report. Perhaps you want to see last years' hot URLs or maybe last months'.
Once you have chosen your period, your downloaded SEO ranking report will display each URL and its relevant data along with easy to understand pie charts and graphs. Very straightforward and very impressive to your clients. 
5.     Google or Bing?
Do you want to know which search engine is performing the best? Maybe Bing is your target audience's search engine of choice but what if your best source is Google?
SEO ranking report software helps identify which search engine is the most effective at giving you the most leads per keyword and showcasing your clients' website.
To see the data on your organic visits, simply click on SEO rank and then click on the add keyword tab at the top of the page. Follow the on-screen guide to add your keyword, then select the location you wish to analyse.
Simply choose your search engine from the options and you can select to include Bing searches and mobile searches.
Since 2015, the number of mobile searches has surpassed the number of searches made on desktops, so we recommend always including mobile searches when using any SEO ranking report software.
Plus, there is the option to add this to any formed groups that you have previously created.
Once loaded, you can filter the results by device, location or by search engine.
 To download your report using our SEO ranking report software, click create report and select the SEO rank metric and simply download your SEO ranking report. Simple, right?
Why stop there?
At Agency360, we offer a unique white labelling solution that makes creating SEO ranking reports quick and easy.
Our all-in-one platform allows you to completely customise your clients' report by tailoring the colour palette, logos and branding to design a unique report.
Give your clients something extra whilst effortlessly pushing your business to the next level. Want to know more? Try out our 14 day free trail, no obligations or credit card required!