Agency360
The ultimate guide to creating customisable client reports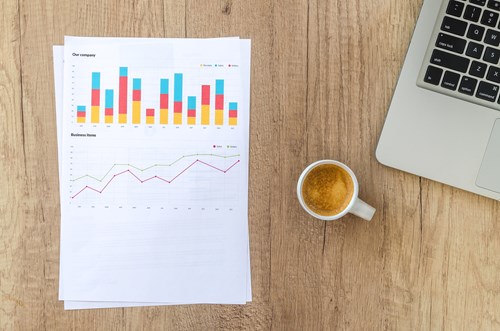 Creating a customised client report is a great way to offer your clients an extra service. Impress them with professional, tailored reports that give them in-depth insights, and that showcase all of your hard work. Check out some of our tips that will make your client reporting more effective and engaging below.
Creating a customised client report is a great way to offer your clients an extra service. Impress them with professional, tailored reports that give them in-depth insights, and that showcase all of your hard work. Check out some of our tips that will make your client reporting more effective and engaging below.  
Experience is everything
By offering completely customised client reports, your clients will feel more valued and recognised than if you were to hand them a generic report. For instance, you can provide your client with more information on a specific detail that was previously discussed at a past meeting.
All of these customised aspects will make your client feel a little more loved and respected, and a valued customer is a happy customer. Providing your client with the best experience will result in a happier and more satisfied client.
According to a recent study, consumers are most likely to share positive experiences with their peers over negative experiences. So, your happy client will most likely tell others about the great experience they had with your firm, increasing the likelihood of positive word of mouth marketing (WOMM).
Word of mouth overrules everything else
Given that over 90% of consumers trust family and friends' advice over any other method of advertising, this marketing technique is extremely effective and completely free! You can increase your positive WOMM and offer your clients the best experience and service with entirely customised client reports.
Positive WOMM has the potential to lead to additional business, allowing you to increase your client portfolio and become recognised for providing an excellent service that is worth the investment.
Max out your business
Offering a completely customised service is a great way to compliment your service and add a personal touch for your clients. Since 86% of buyers are willing to pay more for a great customer experience, you can take full advantage of offering this additional service.
You could perhaps increase your fee or charge in return for providing a comprehensive and personalised client report, that is tailored to their goals and objectives.
opportunity to capitalise on this and increased the value of your business
Dig a little deeper
Along with offering a great customer experience, you can offer your client more in-depth details and facts. With customised client reporting, you can offer your client knowledgeable insights that will provide them with highly valuable statistics and numbers.
Giving your clients the tools to dig deeper will allow them to have deeper insights into their statistics. This will give them a better understanding of their figures, and any trends or patterns within their data can be fully explained and unravelled.
Your customised client reports will be more beneficial and valuable to your client, giving you a professional edge and an opportunity to show your effort.
What should I include in my client report?
When it comes to client reporting for marketing, you should consider a few things before pressing the send button. Of course, the content of the report should focus on the company and their objectives, but here are a few pointers to bear in mind when drafting a client report. 
On your marks, get set, GOAL!
The first section/area of your report should focus on the company's goals and objectives. This may be a very specific objective, for example, to measure the number of leads derived from the recent email campaign.

Or, the goal could be more generalised. Whatever the case, remember to state the aim of the report. This gives your client reports templates, context, reason, and purpose. This will keep you on track but also gives your reader some background and context at the beginning.  
SEO is power
Next, you can include your SEO data and web analytic figures. You could start with website traffic and then perhaps break it down further into unique visitors and paid or organic visitors. This is a great starting point for your client report and gives some backdrop to your next sections.
From here, you can focus on different areas of the data and provide a different perspective. Perhaps there were some trends, or you noticed a drop in your pay-per-click (PPC) ads.
Obviously, the type of data you include will depend on your client's type of business and their goals. You can choose which metrics to include and exclude as you see fit, just make sure that the data is relevant to the client report.
Customer is king
This is probably the most important aspect for your client. They will want to know if all of this data is turning into leads and customers.
Remember to include basic details like the number of new customers, new sales-qualified leads (SQLs), and attribution. Depending on the business's goals, you can add other metrics like customer acquisition cost (CAC) or cost-per-action (CPA).
This area of the client report is highly valuable, and the goals of the business are most often highly related to this section.
The data will show you where the weaknesses and strengths are, giving you the opportunity to identify areas that can be optimised and improved.
Explain and expand
Don't let your numbers hang there with no explanation or context. Make sure you give a few comments to the figures.
Maybe you noticed a dip in paid visitors? Or maybe there was a sudden increase in the click-through rate? These trends may be due to a recent campaign. If so, make sure you state this. Don't leave your numbers open to interpretation, use this section to backup all your hard work and prevent any misunderstandings.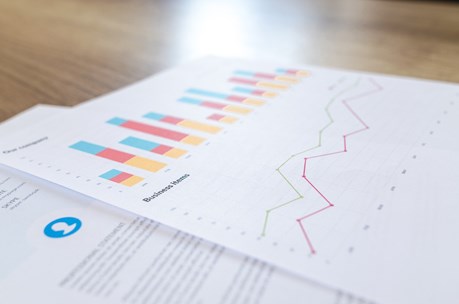 By justifying certain results in your client reports templates, your client can form a better understanding of what is really going on and get a better sense of all your hard work and determination.
Staying relevant
You can, of course, include other metrics within your client report, just be sure that they add some sort of value to the document. Avoid using jargon, as this can lead to confusion. Stick to basic terms, and if you really need to use jargon, fully define the term before going into a deep explanation.
Exclude any irrelevant data sets, that do not add any additional information or purpose to the client report. Also, remove any insignificant images/charts. These will add to further confusion and take up valuable space in your client report.
Lastly, avoid unnecessary metrics that do not contribute to the goal of the client report. For instance, remove any email marketing metrics if you are focusing on social media engagement.
Keep your client reporting relevant and concise. You will retain the reader's attention for longer, and it will result in a more enjoyable read.
Effortless client reports with Agency360
Creating customised client reports with Agency360 has never been easier. You can easily build tailored client reports templates for your clients using the same, all-in-one reporting platform. You no longer have to switch between different analytical sites or remember different passwords. With Agency360, everything is in one, easy-to-navigate platform. 
Kickstart your reports
Simply click onto your clients page from the sidebar menu. Then select your desired client.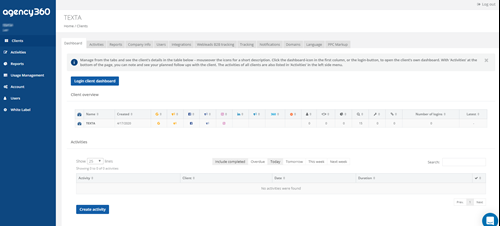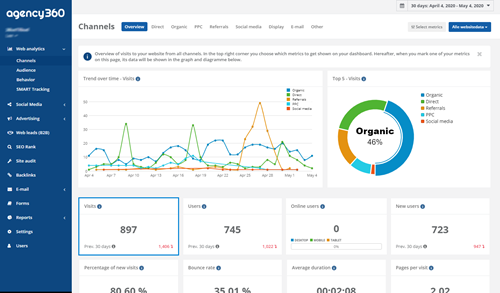 Next, you can log in to their dashboard and quickly see an overview of their data – all in one location.
Along the sidebar, you will see generate report. This is where you will be able to create a customisable client reports template and manage its content.
Pick-n-Mix
Within the generate report page, you can easily pick whichever metrics you want to include in your client report.
This can be completely customised and is broken down into simple sections. Simply select your metrics and then choose the time period for your client's report.
You can also choose to send your client report in PDF, Excel or CSV. You can pick which file type is most appropriate for your client report and easiest for your clients. 
Your client report is one click away!
Once you have selected your metrics, click generate report, and your client report will automatically open. Easy, right?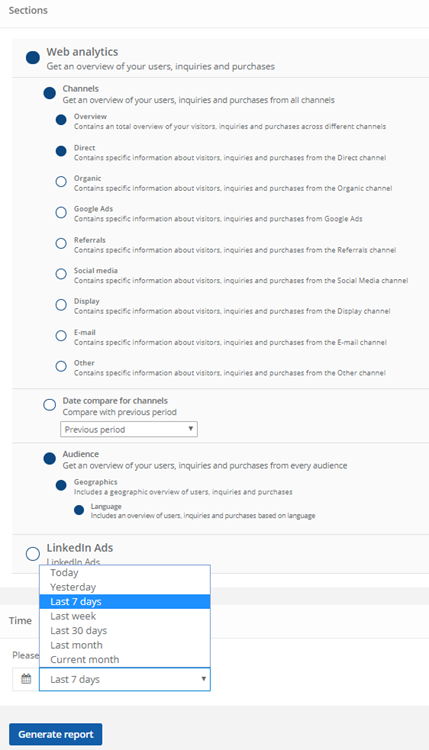 Scheduling has never been easier
When it comes to scheduling your client reports, you can easily arrange when and how to send them with Agency360.
Simply click on schedule report, and you will be able to completely customise all of your client reporting for automatic dispatch.
Just like before, you can pick and choose which metrics you want to include in your scheduled client report.
Here, you can change the email address of the recipient, language, logo, and send date and time interval.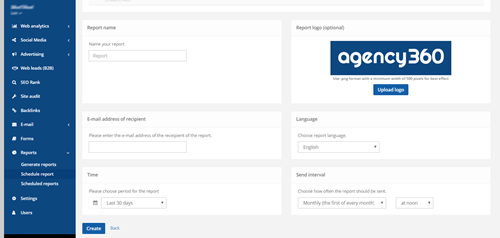 These elements can easily be changed, and you can edit the contents of the report if your client's goals or objectives change.
Managing your scheduled reports
Get an overview of all your sent scheduled reports on the scheduled reports menu. You can see brief details of each previously sent report, giving you complete control over your client reports templates and data.
At the top of the page, you can also select your desired time period, making it easier to manage your client reports templates. You can for example, easily compare this year's reports with last year's.
Agency360 gives you complete control of customisable client reports, so you can focus your time and resources elsewhere.